Book: Witches, Sluts, Feminists, Kristen Sollee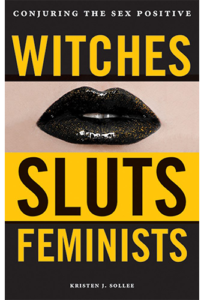 "Somehow I made it into adulthood without becoming a vengeful horned villain. Instead I became a feminist."
Kristen Sollee, founder of Slutist, found that her attempts to negate and undermine the social stigma of the word "slut" and everything associated with it also led her to explore and identify with historical ideas about witchcraft, eventually posing that although the words were distinct they were just different expressions of the same cultural fear of and contempt for women, sex, and bodily autonomy.
In "Witches, Sluts, Feminists," Sollee examines how the "witch" (and her associations with devilry) evolved into the modern "slut," and how many women came to embrace the titles. as a mark of personal empowerment.
Reader Guide
Historically, "witch" and "Satanist" were treated as synonyms by America's early European colonizers, and although the modern idea of witchcraft retains some ties to the devil it's also forged its own cultural and pop cultural identity.
Even so, Sollee's examination of the appeal of embracing stigmatized words, thoughts, imagery, and identities and then using the power of those taboos to your own advantage is a magnificent example for Modern Satanists.
Formal, organized Satanism in America and San Francisco still has a weird film of machismo layered on it thanks to the lingering ghost of old Anton LaVey, but "Witches, Sluts, Feminists" illustrates the diversity and utility of the historical association of devilry with femininity.